Testimonials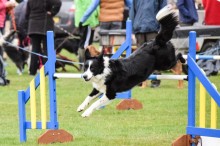 "Jack, my 7 year old border collie, has been seeing Liz Harris for some time now. Originally, he had a reoccurring front leg problem which stopped him competing in agility. After seeing Liz and receiving treatment he was able to resume his agility career and last year gained enough wins to be grade 7 (highest grade).
He now visits Liz regularly for maintenance and to ensure his back is aligned and he is fit to compete in agility and all his other canine activities. Liz knows Jack well and can detect the minutest change in his gait and spine and correct his musculoskeletal problems through manipulative therapy.
During his sessions Liz manipulates his misaligned joints especially his spine and pelvis where agility has the biggest impact whilst assessing Jack's whole body. After each session Jack is relaxed and has received fantastic treatment which will prevent further injury.
As well as agility, Jack takes part in Hoopers and he is a registered therapy dog with Therapy Dogs Nationwide and he has recently starred in a film. He's a busy lad! After our most recent visit, Jack went to a competition and claimed a first-place win, evidence of how Liz has helped him recover and maintains his fitness. I cannot recommend Liz enough and through her knowledge and care I know that Jack is in very safe hands."
Wendy Withington, Leeming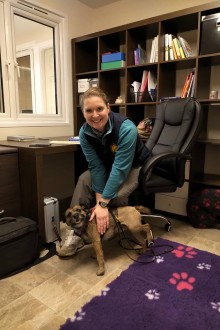 "Project Dodger
"Dodger went to see one of his very, favourite people today, Liz Harris, Animal Therapy Services for some McTimoney and laser therapy
"Dodger was the first visitor to Liz's new unit and it looks amazing. He will be visiting Liz every week now until Christmas to help with his recovery
"Thank you Liz, Dodger is certainly moving a little better now and has settled down for a nap."
Helen M, Northallerton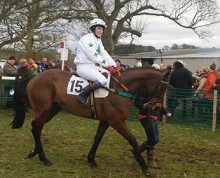 "We have used Liz for a number of years now for routine appointments and have always been very happy with the results. Liz will visit To Begin (Toby) soon to carry out a post-race examination. If anyone out there is looking for an animal therapist, I would recommend Liz Harris 110%.
"Liz always takes time in any examination to explain what she is looking for, if treatment is required again Liz explains in detail what she has found and the treatment etc. Thank you Liz."
Graham Belt, Co Durham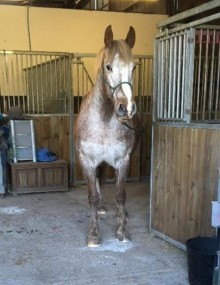 "My goodness the difference in him is amazing! Even the farrier was shocked at how loose his back end felt, how well behaved and easy going he was and how well he was holding himself :)"
Lisa, Co Durham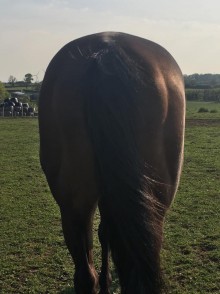 "My horse has been out of work due to a head injury, coming back into work he became very sore, his pelvis was wonky, we feel due to an old racing injury, his back and pelvis muscles also had bad atrophy, with liz's treatments and guide to muscle building he is well on his way to fit again, I cannot thank Liz enough, highly recommend her services, quite amazing 😊 lovely lady with a broad knowledge of equine issues. Thank you very much"
Kimberley Porter, Darlington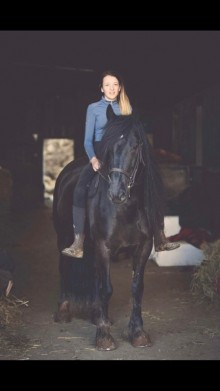 "Liz came out to see my dales pony 3 weeks after quite a bad jumping accident, he tuck a bad fall but didn't present lame initially, I asked liz to give him the once over as he didn't seem quite right, but not enough to consult with a vet, Liz confirmed he had a few tight and sore areas, 1 month post treatment he's actually moving better then before the accident, and stepping beautifully!! He's a hardy type and only showed a slight issue' ie not going as forward , but obviously was in need of Liz ! So a very big thank you from myself, knight and Kate x
(please note, Veterinary Consent was sought prior to me treating Knight)"
Suzanne, Dalton PIercey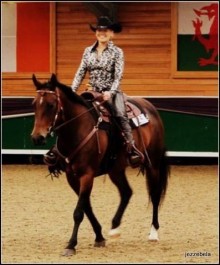 "Hi Liz, I've just got back from a lovely 2hr hack around the woods and I wanted to say thank you to you!! Because this is the first winter out of all the years I have owned Pepper that I have actually been able to ride her though the winter. Usually she is so sore and objective of me getting on, I have to just work from the ground.
Steve (hoofcare professional) came to do her feet a couple of weeks ago and said her feet are now doing what they're meant to because she's walking much better. He hasn't had to take the heels back as he had originally planned because it is all falling into place now!
I was stuck with a broken horse for years and before I met you I was in a situation where I thought I had exhausted most of my options. I was contemplating buying another horse and retiring Pepper because I just didn't know what to do next. She's only had two sessions and look how far she has come!
So I wanted to say thank you for working with Pepper as I am so happy that I am able to ride her, she's going great."
Catherine and Pepper, Co Durham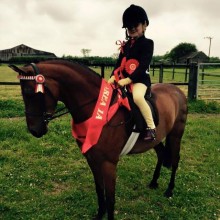 "Liz is definitely worth 5* more if I could give them! She has worked with all of our horses and ponies but my daughter's in particular who we bought so tense, tight and a very grumpy boy. He used to buck etc and really knocked my daughters confidence. We got Liz out who told us how tense he was, we put the pony up for sale as we didn't think he would be safe for our daughter to do first year first ridden anyway Liz worked her magic and she has made him relaxed and free in movement, and luckily we didn't sell him as they have gone on to qualify for Royal International and now doing HOYS quals. Thanks Liz great job!!"
Amy Ross, Streetlam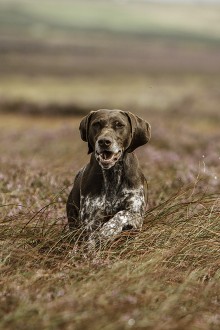 "Liz treated my German Shorthaired Pointer bitch after an injury which caused quite extensive damage to her shoulder and neck.
I had real doubts that she would ever be sound again. She was in such a lot of pain and suffered severe muscle wastage to her shoulder.
After 3 treatments from Liz, she was not only sound, but was fit enough to return to work, which is all this girl lives for.
A huge thank you to Liz from Diva."
Pat Ideson and Diva the gundog, Guisborough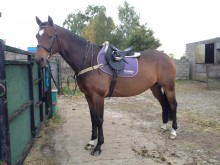 "Hi there,
"Hope you are well! Just to say that Merlin has been going fab since you've been out! I actually have a horse with a back end! He's so springy behind now and loads better going down hills and steps. Lunged him for the first time since you came out today and he cantered perfectly on both reins first time - didn't go disunited at all!! So hopefully he won't be too long until he's cantering being ridden again! Thank you so so much!
"Charlotte"
Charlotte Anderson, Wensley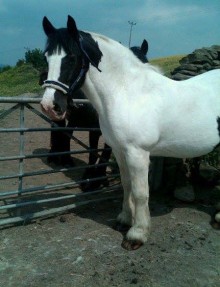 "I've had my 15'3 Cob x Hunter, Domino, since he was 5 years old, he is now 24 and been diagnosed with arthritis in his knees and hocks.

He was acting very stiff when ridden out, more so down hills; it would take him ages to walk down them and I wondered after reading many articles and talking to my vet, if maybe his back wasn't feeling quite right. My vet mentioned having a McTimoney practitioner to come and see him, and recommended Liz.

I emailed Liz with the problems that Domino was having and she quickly emailed me back and we arranged an appointment. Liz was fantastic with him: she did a full assessment on him, talked me through everything and was very patient and understanding. We found out that Domino's saddle was not a correct fit and it was squeezing him on his shoulders, he was very stiff all over and his pelvis was also out of line.

After his first treatment, I'd never seen Domino walk out so well. We were given exercises and stretches to do in-between his next appointment. He was happier in himself and hacking out much better in his new treeless saddle and more fluid with his movements.

Liz has been very patient with me, also, as when Domino has bad days with his arthritis, I'm straight onto my email looking for advice and comfort in her knowledge, she has been superb with me as well, and knows I'm a complete worrier.

I now have Domino on two very good joint supplements and along with a regular check-up and massages from Liz; he is a completely different horse and can continue to enjoy hacks out for a very long time, which makes me a very happy owner, and Domino a very happy boy.

Liz understands that Domino is my baby, and thanks to Liz we are both very happy. Domino and I highly recommend Liz Harris; she's a superstar!"
Christina Neave, Skipton, North Yorkshire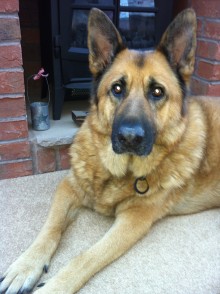 "Hi Liz I would like to thank you for the care and attention you have given my dog Rocky. Rocky is a rescue working GSD and is not the most easiest dog to handle. However taking this into consideration you have worked with him providing laser treatment on his hips and massage and McTimoney to improve movement of his joints. I have seen an improvement in Rocky's mobility in the time I have been taking him to you. I will continue to use your service and highly recommend it.
"thanks
Jean"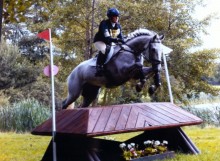 "I bought my IDxTB eventer, Mylo as a 4 year old and although I realised his movement was stiff and shuffly, I presumed it was due to him being over sensitive in his mouth and not being connected to the bridle. He had a very high head carriage, was reluctant to bend and stretch down and very rarely used his back end. Correct training was certainly helping his way of going but the improvements were slow.
"He then jumped out of his paddock and fell on landing causing severe bruising to his sacroiliac region. After 2 days treatment from the Vets, he was sent home with a very specific treatment and work plan in order to strengthen the area.
"Liz's help and treatments have been a key part in Mylo's improvement and Mylo's trust in Liz has grown massively. Not only has Liz treated the specific problems she has also offered advise on other therapies that she thinks will benefit Mylo (such as hydrotherapy), she has shown me basic stretching techniques so I can help my horse on a daily basis and she has given me tips and ideas of exercises that will help to soften him and strengthen his weak areas.
"Mylo's weakness in his sacroiliac region will be a problem for life if not managed through correct training and regular treatments and because of this Liz will visit Mylo every few months. The positive effects of these treatments are noticeable immediately and also last.
"Above all of this though, Liz truly cares about your horses welfare and well-being and this gives me total confidence in her and the McTimoney methods.
"I am positive that Mylo would not be at the stage he is at today if it were not for the help and dedication from Liz.
"From myself and Mylo, thank you x"
Emma Jackson and Mylo, Calverley, Pudsey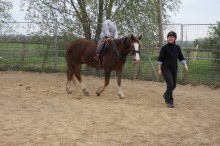 "We have had other body workers at Fir Tree Stud, but the results that Liz has acheived with some difficult patients especially in the pelvis area has been quite remarkable! The difference in their way of going speaks volumes about her ability to heal horses. Fir Tree Stud trains horses using natural horsemanship and classical methods, and it is important to us, to know that our horses backs are in good shape. Without Liz, our happy atheletes wouldn't be quite so happy!"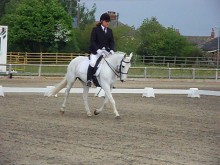 "My 14.1hh Connemara mare had been showing signs of stiffness, shuffling in trot and almost 'bunny hopping' in canter, with little to no flexion in the hocks. She wasn't showing signs of lameness or pain, so my last hope to improve her movement was to find a 'back person'. Over time I had seen several different approaches to equine therapy and none of them seemed to be right for us, I was then recommended Liz Harris by a friend, and after looking at her website I was convinced to give it a go.
"My mare has had a troublesome past, and is rather temperamental to say the least, but Liz took it all in her stride and was very calm and soothing, and even gave her an apple, which meant she was definitely my mare's new best friend, of course the massage after treatment certainly helped as well!
"Liz immediately discovered that she had a badly tilted pelvis, neck pain and misalignments and soreness in the neck and hindquarters! After two visits the difference was unbelievable and has done what I thought wasn't possible. Her movement has improved so dramatically we have even taken her to her first elementary dressage test.
"I cannot recommend Liz enough, what she has done for my mare is nothing short of a miracle."
Jenna W with Shanty, East Yorkshire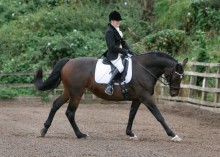 "I would just like to say how pleased I am with the treatment you gave to my young horse Brodie.
"We bought Brodie as an unbroken four year old, so we suspected that she did have problems, or put it down to her previous inexperienced young owner. However, when starting to bring her into work, whenever we put a roller on her, she would buck violently, like a rodeo horse even when tied up or in her stable. She was always very tense and nervous, especially going through door and gateways, but otherwise a very willing obedient horse. Yet she accepted a saddle laid on her back without a girth and rugs with cross straps without any problem. We persevered for many months very gently tightening the roller gradually and even leaving it on her for several hours in the stable and field, but once lunged or asked to move she would still tense up at some point and turn into 'something possessed' We had her checked by several vets, who were all unable to find any physical problem. We even had her spine X-rayed to check for kissing spines. Eventually, one vet found she was exceptionally sore around her sternum and recommended I find a McTimoney practitioner.
"After you diagnosed misaligned ribs and pelvis and subsequently treated Brodie, even after one treatment, she became a different horse, very affectionate and placid. She accepted a roller and then a saddle and turned out very easy to back. She appeared to be broader in her chest and stand more squarely. Instead of shuffling around she turned as a normal horse and also her feet appeared to grow less boxy. Most of all I appreciate how relaxed and 'happy' she is in her day to day life.
"I have subsequently recommended you to several of my clients who had problems with straightness and resistance and have always been pleased with the improvements in the horses after your treatment.
"Thank you Liz, for giving Brodie a good quality of life."
Deborah Carr-Davidson - Foxholm Stud, Billingham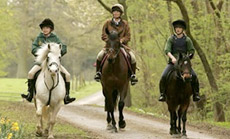 "I always get Liz to come and check all the event horses' backs before the season starts and then ring her whenever I feel one of them have any problems with stiffness or inability to work correctly. I know that she will always come out promptly in an emergency and can usually sort out any problems straight away. In my line of work, teaching and schooling horses, I often come across horses that are reacting badly due to back pain and I am always happy to recommend that the owners ring Liz and see what she can do to alleviate the problem."
Eleanor Mercer, of Eleanor Mercer Equestrian, Kirklington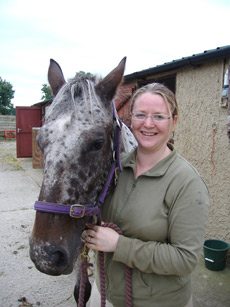 "I was having problems cantering my horse Maya on one particular rein which involved her bucking and breaking canter. I had seen a write up in the local paper for Liz and her treatment so I decided to give her a try. On Maya's first Session Liz spent a lot of time with Maya and explained to me her technique and what work she was going to do on her. Maya is a jumpy horse but seemed to relax around Liz and she enjoyed the relaxation part at the end of her session, so much she was practically asleep! I followed Liz after care instructions and after the first session I could already see a difference in the way Maya went and she was a lot calmer too. After a further treatments Maya has improved dramatically. I would recommend Liz if you are having problems with your horse as she has a good way with horses and her friendly reliable service is second to none."
Jess Stockdale, Kirkby Fleetham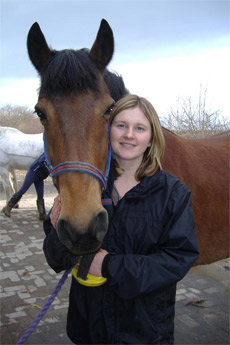 "Liz came out to treat my mare Beau who is a 16.2hh Thoroughbred x Dales. I got in touch with Liz because Beau had been bucking a lot when I changed transitions, especially from trot to canter.
"After the 1st treatment Beau was less tense, then after the 3rd session Beau no longer bucked, she was less tense and much more relaxed. I would recommend Liz to anyone who has a horse as Beau was so much happier after Liz treated her, and it has made my riding experience much more enjoyable."
Sara Campling, Darlington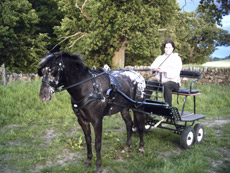 "My cob suffered a field injury resulting in an uneven gait and an unlevel pelvis. Liz Harris was recommended to me by a friend and successfully treated my cob over four visits. I followed her recommendations for schooling and stretches and within two months my cob was back in full work. I found Liz's approach professional and up to date. She has a natural empathy with horses which was a real help when she later treated my 18hh Clydesdale who weighs over a tonne. When he is uncomfortable he likes to throw his weight about!"
Elizabeth Harrington, Richmond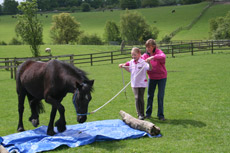 "Liz's approach to the horse is calm and considered and her treatment is very effective and gentle.
"I use Liz for all my horses and we work closely together on remedial cases, giving a comprehensive and holistic approach to the horse."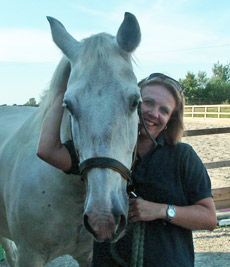 "I had been having problems with my horse, Max, a 12 year old IDxTB for a few weeks - his behaviour had changed from being very laid back to being excitable and strong and his general demeanour was grumpy - ears back and stroppy. The final straw came when I asked him to trot whilst out hacking with another horse and he put in a series of bucks which definitely meant "get off my back". Although I managed to stay on, I was very shaken.
He has had problems with his front legs over the last couple of years - a tendon injury and two pulled check ligaments, but he was coming back into work steadily after a month's rest when the problems occurred. I put his behaviour down to feeling well and frustration at having to go slowly, but the bucking was a different matter. I had all the usual checks done - back, teeth and saddle, but he was pronounced fine and the general consensus of opinion was that he was taking the mickey and that I needed to ride through the problem. Unfortunately, I had twisted my back in the final bucking episode and lost my nerve! A friend rode him in the school a few times and although he only bucked a couple of times, I had lost confidence in him and was ready to sell him. He did appear quite stiff and seemed to bunch his back. He was not forward going which he had always been.
"I saw an article about Liz in the "Northern Horse" free newspaper and visited her website. I emailed her and she said that his behaviour was typical of a horse in pain. She visited Max in May and found that he had problems in his atlas, withers, back and pelvis. She made some adjustments, which were very gentle and he did not mind at all. We arranged a follow-up visit two weeks later. I could not believe the difference in Max after his first treatment. He was a changed horse, really friendly and willing. He moved freely and showed no inclination to buck at all. He was ridden in the school and out on hacks with no problems at all.
"Liz was really pleased to hear of his progress and when she visited him again, found a big improvement. He did not need much treatment, but by the end of it he was standing with his head down, nodding off. He is now hacking out regularly, trotting and cantering and has even jumped a small crosspole.
"I am so pleased I asked Liz to see Max, it would have been very easy to dismiss his behaviour as naughty and sell him, when in fact she felt that he had been in discomfort for some time. It's great to have my horse back and I will definitely have him checked again in a few months time, to ensure that he does not relapse."
Gill Mann, Skipwith, Selby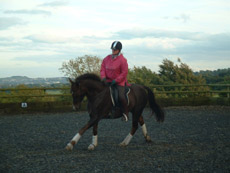 "Liz first came to treat my horse following an accident in the trailer. We don't know what exactly happened in the trailer but afterwards Red could not tolerate even a saddle let alone a rider on his back - and if you tried his back would immediately go up and launch time was inevitable! There are no grey areas with this horse, quite simply he can either be ridden or he can't. The only thing which keeps him rideable has been the McTimoney, Reiki and massage treatments Liz has provided. His first treatment resulted in numerous spinal adjustments and a lengthy massage and Reiki session. 2 days later he could be ridden sweet as a nut! Red required regular treatment sessions to stabilise his skeletal system and with each visit improved immensely. It's worth mentioning that Red is a very sensitive soul to the point of actual overreaction and during adjustments has been known to try and rear or buck! Liz's determination, patience and sheer bravery are to be highly commended! I think we all feel how rewarding the process is as without it I cannot ride my horse. For the first time in the horses' life he has been in consistent training.

We recently encountered a set back - Red got cast in his stable and presented with the same problems, very sore tight back and unable to even be sat on. Liz came and 12 adjustments later, 2 days of rest and we were back in the saddle as though nothing has happened! Horse's aren't clever enough to kid us if they're not keen or happy to work there is a problem, and as owners we have to find out what it is. Now Red has regular maintenance sessions with Liz to keep everything just where it needs to be.

For us this treatment is simply magic and having tried countless other practitioners and therapies with an unrideable horse for 3 years we have finally, finally found the answer!"
Rebecca Smith, Burley Woodhead, Otley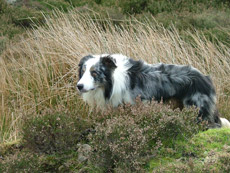 "Liz has been a welcome visitor to our herding Dog days, and used her skills to great effect on dogs with various problems; one had fallen down a mine shaft and was very stiff, another had been trapped by the back as a puppy ... all working dogs are vulnerable to sprains and wrenches and I feel much happier to have them checked regularly!"
Jackie Goulder of Comeby Collies, Pickering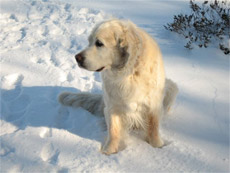 "Digby is an 11 year old Golden Retriever, with multiple joint problems. These began with OCD in a shoulder and both elbows as a pup. Time has taken its toll on these joints and he now struggles with severe arthritis. In addition to his medications with Liz's help he is still pottering about on his walks and enthusiastic about most things."
Julia Harvey, Appleton-le-Moors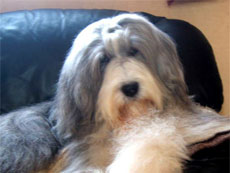 "We have made use of Liz's skills on several occasions now and feel confident that our dogs always benefit.
"We have six Bearded Collies, lively active dogs which need to be able to move freely not only for the show ring but also when at work in the sheep field or out enjoying the long walks which they love so much. Regular check up sessions keep everything in balance, and our dogs are often admired for their free flowing movement.
"Our 'golden oldie' is Jess, who at almost 14 years old perhaps appreciates her sessions with Liz more than anyone! We believe that her quality of life has been noticeably enhanced by regular treatments - thanks Liz!
"Interestingly Liz also checked out a very young litter of pups for us, and found even at that age there were a few who would benefit - what a great start in life for these lucky pups!"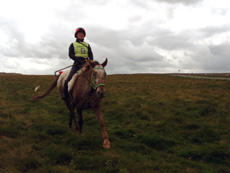 "Liz has been treating my horses for three years now and I am very pleased with the services she offers.
"I care for three horses, one nearly retired veteran (Old enough to know better horse), and one advanced endurance horse (Misunderstood horse) and one younger horse which may or may not have a career in endurance (Total liability horse).
"Liz is sympathetic to all their differing needs. Old enough to know better horse is quite stiff so needs gentle stretching and massage. Misunderstood horse is often grumpy about treatment and suspicious of strangers but Liz has worked hard to form a relationship based on trust with her. Total liability horse jumped on a car and fell off onto her head, fracturing part of her skull and Liz helped her feel better with treatment.
"My horses are all barefoot and Liz has worked with my barefoot trimmer to keep Misunderstood horse's feet even and regular. A correct back equals good, symmetrical hoof wear. The trimmer would spot potential problems in her back by looking at her feet and Liz has put them right before problems could develop. When Misunderstood horse went stiff after a ride last year Liz discovered a problem with her pelvis, treated it and after that, no more after ride stiffness.
"As an endurance horse, Misunderstood horse would definitely recommend Liz to all her friends. She understands entirely what is demanded of a horse in an endurance ride and works hard by doing her bit to make sure they are up to it.
"Old enough to know better horse and Total liability horse would also like to point out that Liz is just as good at keeping those others who do not work quite as hard in good shape too!"
Sally Flatman, Brackenber, Cumbria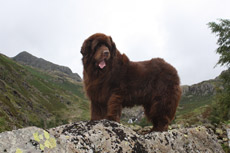 "Jez has had severe knee problems for 2 years, and is on a huge range of supplements and painkillers to help. Our specialist has recommended a TPLO operation on both knees. We were sceptical about the treatment but following Liz's treatment Jez has been a different dog, more mobile and obviously in less pain. He's had no pain killers since and is running for the first time in a long time."
Kerry Dowson, Croft-on-Tees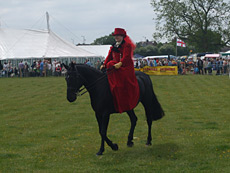 "I recently started riding side saddle and obviously wanted to keep my horses back in the best possible physical condition, I use Liz and can't recommend her highly enough.
"I am sure Storm enjoys his treatments and I can really feel he benefits from them."
Janet Walsh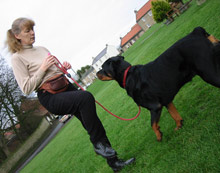 "Liz's gentle, kind and patient manner, coupled with her extensive knowledge and expertise, put my Rottie on the road to recovery when he developed a back problem. I would recommend Liz to anyone who has an animal that needs some physical TLC."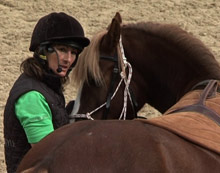 "I run a rehabilatation centre for troubled horses in East Yorkshire. Liz came to work on some of my horses last summer and I was very pleased with her approach. I have used quite a few practitioners and have never found one, until Liz, that I thought was really effective. Therefore I have recomended her to some of my clients for follow up work. I need a body worker/healer to work alongside me in this business because so many of my horses come in with very real pain through their backs etc. This must be adressed before I can start to retrain their way of going. The only draw back is that she is quite a long way away up in North Yorkshire! She needs to move nearer!"