Congratulations Along Came Rosie and Andy Crook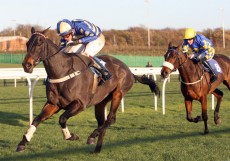 Posted 12th November, 2010
I would like to say a huge CONGRATULATIONS to Andy Crook, who trains Along Came Rosie (featured as a case study in an older blog).
Since having some treatment Along Came Rosie has gone from strength to strength, and on 12th November she won at Newcastle on only her second outing this season - beating the favourite by a good margin.
We are all very proud of how far she has come!