PAWS Natural Health Conference 2010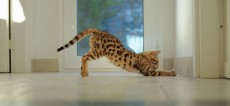 Posted 15th October, 2010
Bookings are already flooding in for the first PAWS Natural Health conference to be held on 13 November, 2010 at King's Hall, Ilkley, by PAWS Natural Health for Animals. With only a few weeks left for ticket sales, the event looks set to be a huge success as the first of its kind in the north of England.
The PAWS Natural Health conference will provide an exciting look at alternative therapies available for animals through talks by professionals from different aspects of natural health. Two of the UK's leading vets in the field of complementary and conventional medicine will be speaking at the event alongside other experts giving talks and workshops on animal psychology, physical therapy, training and nutrition throughout the day.
Conference organiser and PAWS founder Tracey Crewdson says "There are many complementary vets out there so keen to work with more animals in a natural way. The conference aims to bring people together to learn from each other and to listen to speakers who are recognised experts in their field."
"PAWS Natural Health for Animals is simply a network, a facility and a resource. We organise events, conferences and anything to raise awareness about options available for animals in the area of alternative therapy."
Great interest has already been shown in the conference thanks to the support of complementary vets at the event. Their support is crucial as they work and understand the benefits of both conventional medicine and complementary therapies.
The conference will benefit all animal lovers and pet owners, as well as farmers or vets who want the best care and treatment for animals. Farmers in particular are using homeopathy to great effect for conditions such as mastitis. It's proven to be a cheaper alternative to conventional medicine and means the cows do not have to be taken out of milk production.
Even conventional vets are greatly interested in the PAWS Natural Health for Animals conference as they are looking to find more to offer their clients. Members of the public will also be able to learn more about the huge amount of options available in treating both long and short term illnesses in their pets, particularly conditions that their regular vet has found difficult to treat.
Tracey is confident that due to the key speakers being vets, people can be sure that the information they are getting is based on a lot of professional training, experience and research. She adds "The speakers will be talking about real life examples of how complementary therapy works with no room for ambiguity. I really hope people will, as a result, feel empowered to demand and expect more from their vets."
Liz Harris is one of the speakers at the conference and will be running workshops during the day on McTimoney therapy, including a demonstration canine treatment and advice on massage and maintenance stretches for your own dog. Other speakers include holistic vets, behaviourists and a TTouch practitioner.
For a full conference guide visit www.pawsnaturalhealth.co.uk. Tickets and bookings are also available from this website. Tickets to the event are from £48.