Training courses and workshops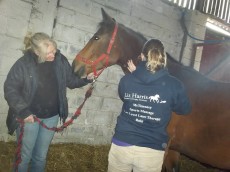 Posted 16th July, 2013
Liz is now offering training workshops for owners who wish to learn a simple massage routine for their horse . These courses are run at your yard, giving owners the opportunity to learn massage on their own horses. Courses start with a brief "classroom" session, and the majority of the day is spent learning a basic massage and stretching routine.
Massaging your own horse is relaxing (for both parties!), helps you spot small injuries before they become a problem, and empowers for the horse owner in being able to help their horse. There are obvious benefits of learning massage from an experienced therapist and previous attendees have commented that Liz's passion for the subject is infectious! The massage routine is intended for relaxation, bonding, maintenance and to alleviate minor aches and pains; and is perfect if you wish to keep your animal in peak condition between formal treatments. The massage courses are proving to be very popular with owners, and are great fun! (please note: this is not a professional level qualification - the massage routine is only intended for use on your own animals).
Additionally, as a fully qualified Reiki Master Teacher, Liz offers training in Reiki therapy from First Degree to Master level, and an Reiki for Animals workshop (this is essential for insurance reasons if you wish to practice on animals).
For more information, phone 07707 653950 for a no-obligation chat, or email liz@lizharris.co.uk