*** WINTER SALE ***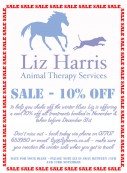 Posted 8th November, 2012
SALE - 10% OFF!
INTERNET EXCLUSIVE!
To help you shake off the winter blues, Liz is offering a cool 10% off all treatments booked in November and taken before December 31st.
Don't miss out - to be eligible for the sale, please "like" Liz's page on facebook today, and then contact her via phone on 07707 653950 or email liz@lizharris.co.uk.
Make sure you enter the winter sale when you get in touch!
Liz's facebook page can be found at the following link: https://www.facebook.com/AnimalTherapyServices