McTimoney Therapy
McTimoney Therapy for Other Animals
McTimoney is a very versatile treatment and has been used to treat a variety of animals. Cats can be successfully treated after road accidents, falls and other injuries, often responding readily to treatment. Cattle that have slipped over, working bulls with difficulty mounting and cows that have calving difficulties can often be helped by manipulation. Sheep, goats, pigs, rabbits and even birds have also been treated successfully.



As part of the second year of her McTimoney training, Liz was required to complete a research dissertation. For this, she studied pelvis angles in dairy cattle and found that cows with steep pelvises are more likely to suffer from calving problems.
Pelvic misalignment can not only be caused by a difficult calving, but can actually make future calvings more difficult. McTimoney therapy can effectively treat pelvic misalignment in animals and therefore is indicated in animals with a history of difficult birthing.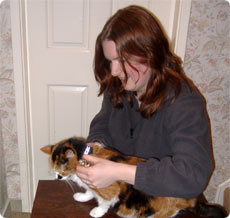 Equine McTimoney
Weight bearing and modern competition put strain upon a horse's skeletal structure...

Canine McTimoney
Dogs have extremely flexible
spines, but are susceptible to
injury...